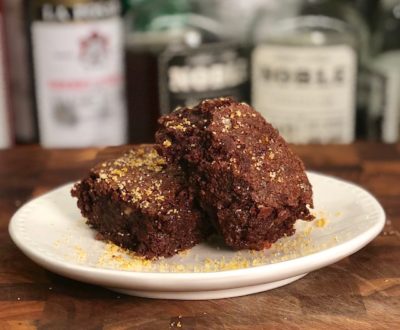 This was a bit of an experiment which turned out perfectly in our house.  I used our Sweet & Savory Sous Salt but you could easily use our Pinot Noir Sous Salt to sprinkle on top. The recipe proportionally works in an 8 inch square baking dish. Double the recipe for a rectangular dish.
ingredients ~
1 1/2 c chocolate chips
1 stick butter
1/2 c brown sugar
1/2 c white sugar
1 egg
1 c flour
1 t vanilla
1 t Sous Salt Sweet & Savory
directions ~
Using a square baking dish line the dish with parchment paper so that the ends extend over the sides. This will allow you to easily remove the brownies once cooled from the dish.
Melt the butter in the microwave with the chocolate chips until the chips are melted. Whisk in the sugars let them sit for five minutes then put the melted mixture in the refrigerator so it sets up for five minutes.  Whisk in the egg, vanilla, Sous Salt and flour.  Add in the remaining 1/2 c chocolate chips.
Bake for 25 minutes at 325 degrees