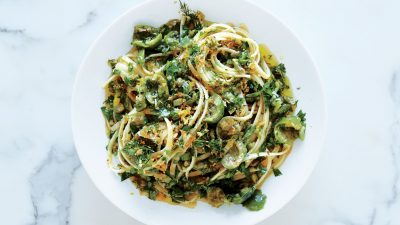 Favorite color in my life is green. So when I found this recipe from Chris Morocco in Bon Appetit Magazine I fell in love with it first with my eyes….then it had all the flavors that I love went in it…olives, parm, pasta, herbs, capers, anchovies…who wouldn't love this.
ingredients
1 T + 1/2 c olive oil
1/4 c panko bread crumbs
Sous Salt Fennel & Shallot
pepper
2 T fresh dill
1 t lemon zest
12 ounces of linguine
1/2 bunch of asparagus, cut in 1/2 inch pieces
1 c frozen peas
4 anchovy fillets
1 clove garlic
1 c fresh parsley
1/2 c fresh basil
1 c green olives, pitted & halved
3 T drained capers
1/2 c grated Parmesan
2 T fresh lemon juice
directions
Heat 1 Tbsp. oil in a medium skillet over medium and cook panko, stirring, until golden, about 5 minutes. Season with salt and pepper; transfer to paper towels to drain and toss with dill and lemon zest.
Cook pasta in a large pot of boiling salted water, stirring occasionally, until al dente. Drain, reserving ½ cup pasta cooking liquid.
In the same skillet you toasted the panko add 1T olive oil and sauté the asparagus just until tender. Turn off the heat and add the frozen peas.
Meanwhile, mash anchovies and garlic to a paste on a cutting board with the side of a chef's knife. Combine with parsley, basil, and half of olives and capers in a large bowl. Chop remaining olives and capers and add to bowl, along with remaining ½ cup oil. Mix well; season sauce with Soussalt and pepper. Add the sauce to the asparagus mixture. Then add the pasta and ¼ cup reserved pasta cooking liquid to the asparagus and pea mixture. Toss, adding Parmesan a bit at a time, along with more pasta cooking liquid as needed, until sauce coats pasta. Add lemon juice; season with salt and pepper.
Serve pasta topped with panko and more Parmesan.
Original recipe Chris Morocco
Photo credit Linda Xiao