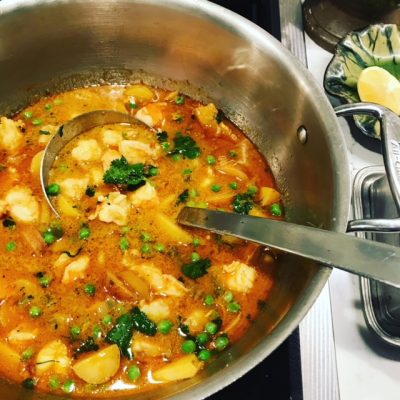 Another quick, colorful and full of flavor dinner that you can prep in no time and serve on a week night.  I served ours over shrimp noodles that you can get at the Chinese market.  What's terrific about these shrimp noodles is that after you cook the noodles in salted water you can use the water in your curry. It takes on the flavor of the shrimp noodles and it a perfect stock addition. I used the green curry paste that comes in a little jar from Simply Asia but you could use the red curry paste as well.
ingredients
1 pound shelled and deveined shrimp, cut in half
2 yukon gold potatoes
1 c frozen peas
1/4 chopped cilantro (or parsley if you don't like cilantro)
1 shallot
1 clove of garlic
2 – 3 slices of ginger
2 T coconut oil
1 T toasted sesame oil
1 t Chipotle Sous Salt & Pepper
1 t Sweet & Savory Sous Salt
2 heaping T of Green Curry Paste
2 T Curry powder
1 can of coconut milk
2 c of the water from the shrimp noodles
directions
Bring the salted water to a boil in a pasta pot. If you are using the shrimp noodles add them to the boiling water and turn off the heat.  Slowly wiggle them free of the bundles them come formed in.  They will cook off the heat in about two minutes.  Drain them and drizzle a tablespoon of toasted sesame oil on them. Set aside.
In a soup pot add the coconut oil and bring up to medium add the shallot, garlic and ginger and let them infuse in the oil. Avoid burning the garlic over too high heat. Once they've become aromatic add the curry paste and the curry powder. Mix around in the bottom of the pot to toast a bit. Add the two cups of pasta water to the curry mixture and bring to a boil. Add the potatoes and simmer for 15 minutes.  Add the coconut milk and simmer for 5 minutes. At this point if you want your curry base thicker reduce it at this point to the consistency you desire. Turn the heat off, add the shrimp and cover the pot.  The shrimp with cook in the heated soup. add the peas and cilantro and serve over the noodles.