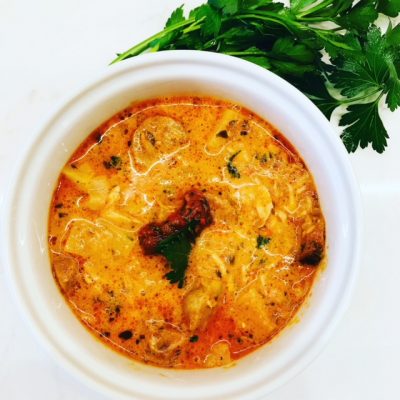 This soup came together after a week away with the family. We needed something quick but as always …it had to be flavorful as well.  I used Sea Bass, Shrimp and Spicy Sausage. You could use Salmon, Halibut or Cod in addition or as a substitute. There are so many different kinds of sausages being made today so experiment with some other varieties.  There is a chicken artichoke that would be tasty with cod and scallops. I used salsa because it already had the garlic, herbs and tomatoes as a base so it jump started our soup prep. I used our Sun Dried Tomato Sous Salt but you could use the Fennel & Shallot or any of them would work.
ingredients
1 c of a good quality tomato salsa
1 t Sous Salt Sun Dried Tomato & Pepper to taste
2 spicy Italian sausage, cooked and sliced
1 T sun dried tomato pesto or finely chopped sun dried tomatoes in olive oil
2 c vegetable stock (or fish stock)
1 Yukon gold medium potato, diced
4 ounces sea bass cut into 1 – 2 inch pieces
4 medium shrimp, peeled, deveined and quartered
1/4 c fresh parsley chopped
2 T butter
2 T creme fraiche
directions
In a soup pot heat the salsa with the stock. Add the sausage and the potato and cook until the potatoes are tender, apx 20 mins.  Add the fish and cook for 2 minutes,  At this point whisk in the butter, creme fraiche and bring to a boil. Turn the heat off add the shrimp and fresh parsley, cover the pot and let the shrimp cook from the heat of the soup. It will take just a couple of minutes. This way you aren't boiling the shrimp which causes them to become rubbery.
Serve with a dollop of salsa and some creme fraiche….and a crusty artisan bread!