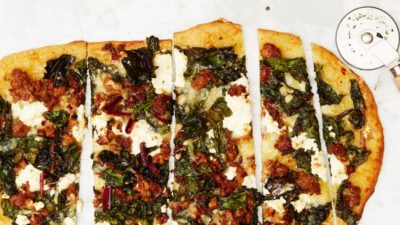 flat bread by another name..is pizza…it just sounds fancy
Quick and easy to prep, you can either make the dough yourself or purchase good quality pre made pizza dough at Trader Joe's or Whole Foods. This is a terrific meal with a Caesar Salad. I've included the pizza dough recipe here but don't feel you have to tackle that as well if it feels daunting. Just make the sausage flatbread.
hot sausage and crispy kale pizza
Ingredients
4 SERVINGS
3 tablespoons olive oil, divided
¾ pound hot Italian sausage, casings removed
1 bunch smooth lumache kale ribs and stems sliced into 1-inch pieces, leaves torn
Kosher salt, freshly ground pepper
⅓ cup finely grated Parmesan
1 tablespoon rosemary leaves
1 cup grated Fontina cheese
1 cup home made ricotta (you can use store bought)
Preparation
Place a rack in upper third of oven, place your pizza stone or pizza steel* on the rack and preheat to 450°. Heat 2 Tbsp. oil in a large skillet over medium-high. Add sausage and break into small pieces with a wooden spoon. Let cook, undisturbed, until bottom sides are browned, about 4 minutes. Add lumache kale stems; cook, tossing occasionally, until crisp-tender, about 2 minutes. Transfer sausage and chard stems to a medium bowl with a slotted spoon.
Add chard leaves, turning to coat to the skillet. Season with Sun Dried Tomato Sous Salt and pepper. Add to the bowl with sausage mixture.
Roll out your pizza dough on a piece of parchment paper to an oblong shape approximately 18 x 12. Coat dough with remaining 1 Tbsp. oil and sprinkle with Sous Salt Olive, Lemon & Thyme. Top with half of Parmesan and rosemary, followed by sausage mixture, Fontina, ricotta, then remaining Parmesan and rosemary.
Bake pizza until crust is golden brown and crisp, approximately 15 – 18 minutes. Let cool 5 minutes.
Photograph by Nicole Franzen
* I use a pizza steel that I purchased from Sur La Table. I absolutely love it because it gets really hot and produces the perfect bottom crust.  Also cooking the pizza at the upper third of your oven cooks the top of the pizza and promotes a bubbly cheese topping.