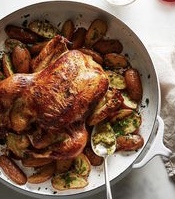 My favorite roast chicken recipe is the spatchcock one we have on our web page. Although it does call for a slathering of butter…so I recently discovered this recipe posted on FOOD52 by Emily C which calls for brining the bird in buttermilk and pickle juice…with a soupcon of Sous Salt of course.  So if you want to avoid the consumption of butter this is a lovely alternative which she derives from the preparation of fried chicken for flavor and tenderness.
ingredients
1 whole chicken
1 c buttermilk
1 c pickle juice (any type)
1 t Sous Salt Herb and & Garlic (although any one would work)
1 – 2 pounds of Yukon Gold potatoes halved
Olive oil
1 T butter softened
4 cornichons, finely chopped
1 T finely chopped parsley
Sous Salt & Pepper
1 c white wine
1/2 c chicken stock
directions
Mix together the buttermilk, pickle juice and the t of Sous Salt. Place the chicken in a gallon sized plastic bag and pour in the brine. Refrigerate 6 – 24 hours. The longer you brine the more flavor the bird has.
About an hour before you roast the chicken, remove it from the bag and throw away the brine. Pat the chicken dry. Rub the chicken with olive oil and season it with a sprinkle of Sous Salt and pepper
Put your cast iron skillet into a 425 degree to get screaming hot. Should take about 20 minutes.
Toss the potatoes with olive oil and sprinkle with Sous Salt.
Take the skillet out of the oven carefully and put a hot pad on the handle so you remember it's HOT. Place the potatoes in the skillet and the chicken on top of the potatoes. Roast for approximately 50 + minutes depending on the size of your bird (rotate if necessary during the roasting period) until the thigh registers 165 degrees. If your bird is browning and the internal temp isn't high enough you can reduce the temp to 375 or 400.
In the meantime mash together the butter and the cornichons. When the chicken is done remove it from the skillet and allow it to rest on your cutting board for 10-15 minutes. Remove the potatoes and toss them in the cornichon butter with parsley.
To make a pan sauce add 1 cup of white wine to the skillet and reduce by half. If you need more juice add a half cup of chicken stock as well.