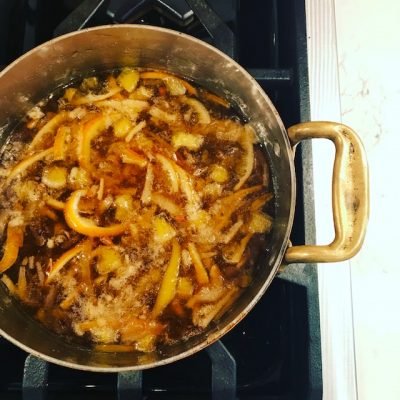 This is the best condiment I've made recently…well besides the Harissa, the Sun Dried Tomato Pesto and the Carrot Top and Arugula Pistou… but then I love to cook things that taste terrific and don't require a tremendous amount of prep time.  That's one of the reasons we started our Salt business so that the home cook could prepare a tasty meal using a salt and spice blend already prepped for them.  The condiments I make I prep usually on the weekends when I have time or a rainy day works too.  Then they are in the fridge during the week to add to pastas, drizzle on chicken or fish or add to soups and stews. This Meyer Lemon Marmalade is the newest addition to my condiment selection.  I just love the versatility. The first time I used it I put in on a butterflied or spatchcocked chicken with a tablespoon of Harissa for a spicy and subtly sweet treat. Last night I pan roasted duck breasts skin side down until they were crispy, flipped them brushed them with the marmalade and put them under the broiler just to crisp the sweetness.
ingredients
4 meyer lemons
4 lemons
3 c sugar
1 t cardamon
1 t Sweet & Savory Sous Salt
directions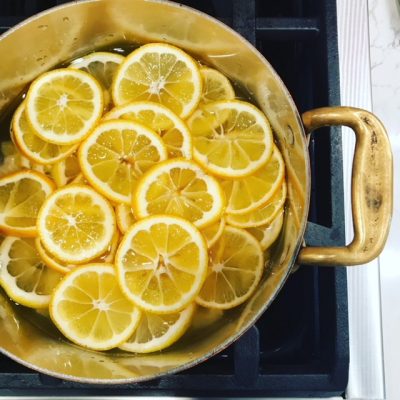 Remove the peel and pith from 2 of the Meyer lemons and 2 of the lemons. Remove the seeds and chop the fruit. Then thinly slice the other 2 Meyers and the other two lemons.  Combine all the lemons in a medium saucepan and add 2 c of water.  Bring to a boil, then reduce and simmer 5 minutes. Remove from the heat and press parchment paper directly onto the surface of the lemon mixtures. Refrigerate 8 – 24 hours.
Remove the parchment and return to a boil, then reduce the heat and simmer until the rings are tender apx 20 mins.  Measure the mixture and match cup for cup the mixture with sugar. So if you have 3 cups of lemon mixture add 3 cups of sugar. Add the cardamon and Sous Salt.
Bring the mixture to a boil. Clip a candy thermometer to the pan and continue to boil until the mixture gets to 220 degrees.  It should take about 20 minutes and turn a beautiful amber color.  Transfer the marmalade to an airtight container and let it cool.  Refrigerate for up to 1 month.