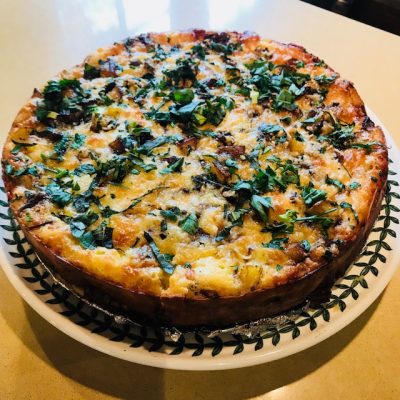 The lightness of a popover and the richness of a fritatta…my perfect paring for any meal.  This recipe can be adapted to fit what ever you like with you morning or evening egg dishes. I used sausage and potatoes with fontina cheese. But you could do spinach and goat cheese with sun dried tomatoes or ham with potatoes and gruyere. Parmesan with pancetta and arugula would be lovely as well.  Just about any flavor combination you love would work.  The batter is less eggs with the balance of the base coming from flour.  I used chick pea flour but all purpose flour would work just perfectly.
ingredients
3 eggs
1 1/2 c milk
1 c flour (I used chick pea but there are so many beautiful flours milled today, experiment)
1 t Sous Salt Porcini Mushroom
1 T melted butter
1 leek (white part only)
3/4 lb Yukon Gold poatoes, cut into 1/4 inch dice
1 lb of sausage
1 c grated fontina cheese
directions
Heat the over to 425 degrees. Prep a 9 inch springform pan by placing a sheet of aluminum foil over the bottom and locking the bottom into place.  This helps fill the seal a bit tighter although your batter will be thick. Set the pan on a rimmed baking sheet. Spray with cooking spray.
Whisk the eggs, milk and 1/2 t of Sous Salt in a bowl until well combined. Whisk in the flour and and add the butter. Let the batter sit while you prep the remaining ingredients.
Put your potatoes in a microwave safe bowl with 1 T water. Cover with plastic wrap and cut a small slit in the top for venting. Cook for 3 minutes. Meanwhile cook the sausage in a skillet breaking up clumps into bitesize pieces. Cook until golden brown about 4 minutes. Remove the sausage and spread it evenly on the bottom of the springform pan with the foil.
Add the chopped leeks to the remaining sausage fat, saute them until limp, add the potatoes and fry them until golden brown. Season them with a sprinkle of salt.
While the leeks and potatoes are cooking, place the springform pan with the sausage in the oven. When the potato mixture is ready remove the pan from the oven. Sprinkle 1/2 of the cheese over the sausage and pour the batter evenly over it. Scatter the potatoes and leeks on top and sprinkle with the remaining cheese.
Bake until puffed and golden brown about 25 – 30 minutes depending on your oven.  Let it sit for a few minutes then run a knife around the edges of the pan. Release the outer springform ring and transfer to a serving platter.
You will love it!