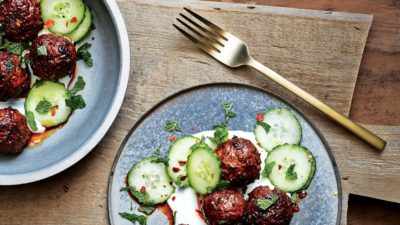 This recipe originated with Chef Seamus Mullen one of his featured tapas bar dishes at his El Colmado Restaurant in New York. I just morphed them into what my palatte enjoys and used our Smoked Paprika Sous Salt.
Ingredients
4 SERVINGS
Chile Sauce
3 pasilla chiles, seeds removed, chopped
1½ teaspoons crushed red pepper flakes
1 tablespoon cumin seeds
¼ cup Sherry vinegar or red wine vinegar
1 tablespoon Sous Salt Smoked Paprika
1 garlic clove, chopped
½ cup olive oil
Meatballs And Assembly
¼ small onion, chopped
8 garlic cloves, 7 chopped, 1 clove finely grated
1 tablespoon chopped fresh parsley
1 teaspoon chopped fresh oregano
1 tablespoon Smoked Paprika Sous Salt
1 large egg
1¼ pounds ground lamb
1 tablespoon rice flour or all-purpose flour
4–5 tablespoons olive oil, divided
½ English hothouse cucumber, thinly sliced
½ teaspoon finely grated lemon zest
2 tablespoons fresh lemon juice
1½ tablespoons Sherry vinegar or red wine vinegar
Freshly ground black pepper
Yogurt Sauce
½ cup plain greek yogurt
2 tablespoons tahini
1 teaspoon fresh lemon juice
1 teaspoon fresh thyme
1 teaspoon Sous Salt Grey & Herb
¼ cup chopped fresh mint
Crushed red pepper flakes (for serving)
Preparation
Chile Sauce
Toast chiles and red pepper flakes in a dry small skillet over medium heat, tossing occasionally, until fragrant about 3 minutes. Let cool. Working in batches, finely grind in spice mill, then transfer to a blender.
Add vinegar, Smoked Paprika Sous Salt, and garlic to blender and blend until smooth. With motor running, gradually stream in oil and blend until combined. Transfer to a large bowl; season with salt.
Do Ahead: Chile sauce can be made 2 days ahead. Cover and chill.
Meatballs and Assembly
Pulse onion, chopped garlic, parsley, oregano, and 1 Tbsp. Smoked Paprika Sous Salt in a food processor, scraping down sides as needed, until finely chopped. Add egg, lamb, and flour and pulse until evenly combined. Form lamb mixture into 1 ½" balls, I use an ice cream scoop to make sure all the meatballs are the same size.
Heat 2 Tbsp. oil in a large skillet, preferably cast iron, over medium-high. Working in 2 batches and adding another 1 Tbsp. oil to skillet if needed, cook meatballs, turning occasionally, until browned on all sides and cooked through, 5–8 minutes. Transfer meatballs to paper towels to drain.
Transfer all meatballs to bowl with chile sauce and toss to coat.
Toss cucumber in a medium bowl with lemon zest, lemon juice, vinegar, and remaining 2 Tbsp. oil; season with Sous Salt Grey & Herb and pepper.
Mix the yogurt with the tahini, lemon juice, Sous Salt, thyme, mint and red pepper flake.
Plate by placing the yogurt sauce on the plate with the cucumber and add the meat balls. Garnish with chopped parsley.
Do Ahead: Meatball mixture can be made 1 day ahead. Cover and chill.
Recipe by Seamus Mullen, El Colmado, New York City
Photograph by Christopher Testani