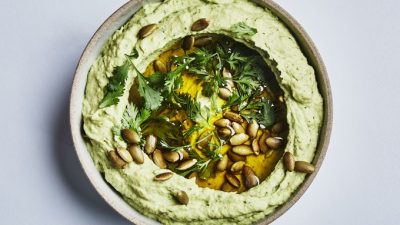 I love this blend of rich avocado and chickpeas. It's fluffy and elegant. You can use this as a dip, to garnish salmon tacos or thicken soups and stews. I put a little siracha on it for a spicy kick!
ingredients –
½ large ripe avocado or an entire small one
1 – 15½-ounce can chickpeas, rinsed, drained, reserve a little of the cans liquid to adjust consistency
⅓ cup tahini, well mixed
¼ cup plus 1 tablespoon fresh lime juice
1 garlic clove, finely grated or smashed to a paste with flat side of knife on cutting board
¾ teaspoon Sous Salt Sun Dried Tomato Or Chipotle or any one of our Sous Salts are perfect
10 cranks freshly ground black pepper
¼ teaspoon ground cumin
1 cup cilantro leaves with tender stems
2 tablespoons olive oil, plus more for drizzling
Toasted pumpkin seeds (pepitas; for serving)
directions –
Process avocado, chickpeas, tahini, lime juice, garlic, salt, pepper, cumin, and 1 cup cilantro in a food processor until smooth, about 1 minute. With the motor running, stream in 2 Tbsp. oil, then continue to process until hummus is very light and creamy, about 1 minute longer. Taste and season with Sous Salt.
Transfer hummus to a shallow bowl. Top with pepitas and cilantro and drizzle with more oil.
Do Ahead: Hummus can be made 4 days ahead. Transfer to an airtight container, cover surface with plastic, and chill.
Recipe morphed from Bon Appetit
Photograph by Alex Lau