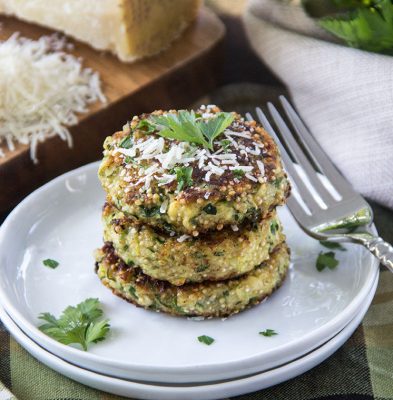 I love these zucchini fritters, the sweetness of the corn and the crunch of the quinoa with the nuttiness of the parmesan … heavenly…..with Fish, Chicken or a simple Green Salad! The original recipe I morphed from The Scrumptious Pumpkin to her credit all I did was add the corn and the Sous Salt
ingredients:
2 small zucchini, grated
1 c cooked quinoa
2 T finely diced onion
1 ear of corn, kernels removed from the cob
1 garlic clove, finely grated
2 large eggs, beaten
1/2 t ground cumin
2 t Sous Salt Herb or Sun Dried Tomato
2 T chopped fresh parsley,
Ground pepper to taste
1/3 c flour
1/2 t baking powder
1/2 c vegetable oil
sauce:
1/4 cup good quality mayonnaise
1/2 teaspoon chopped fresh thyme
1/2 teaspoon Siracha (less or more depending on your spice level)
1/2 teaspoon Sous Salt Sun Dried Tomato Salt
1 teaspoon lemon juice
preparation:
siracha sauce
Mix Siracha, lemon juice, mayonnaise, thyme and Sun Dried Tomato Salt in a small bowl.  You can substitute the mayonnaise for plain yogurt or creme fraiche.
fritters and assembly
Grate zucchini and onion in a food processor or a hand grater.  Place the vegetables on a few paper towels sprinkle them with 1 tsp of grey herb salt and let them sit for  30−40 minutes. Remove corn from the cob.

Mix eggs, garlic, cumin and 2 Tbsp. parsley in a medium bowl; season with 1/2 tsp Sous Salt Grey Herb and pepper.

Squeeze the moisture out of the zucchini mixture in the towels. Add to the egg mixture the corn from the cob, the quinoa and the zucchini mixture. Sprinkle flour and baking powder over; mix gently.

Heat vegetable oil in a large skillet over medium-high. Working in batches, spoon scoops of mixture into skillet, flattening gently with a spatula. Cook until golden brown and crisp, about 3 minutes per side. Transfer to a wire rack; season with Sous salt. Drizzle Siracha sauce over the zucchini cakes top with chopped parsley.