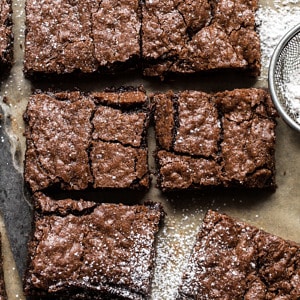 All the credit for this recipe goes to Tieghan Gerard at Half Baked Harvest. One of my go to Instagram follows. I've got recipes for brownies that are a bit fudgier but I loved the crackle top and crunch of these brownies. The only thing I did differently is sprinkled them with our Sweet & Savory Sous Salt when they came out of the oven. Powder sugar dusting..optional!
ingredients
2

 

sticks (1/2 cup)

 

salted butter

2

 

cups

 

semi-sweet chocolate chips

1 1/2

 

cups

 

granulated sugar

1

 

tablespoon

 

vanilla extract

2

 

teaspoons

 espresso instant granules

4

 

large eggs

1/2

 

cup

 

all-purpose flour

1/2

 

cup

 

unsweetened cocoa powder

1

 

teaspoon

 

baking powder

1 t Sous Salt Sweet & Savory
directions
Preheat the oven to 350 degrees F. Line a 9×13 inch pan with parchment paper.
In the microwave, melt together the butter and 1 1/2 cups chocolate chips (stir at 30 second intervals) until melted and smooth. Stir in the sugar, vanilla, and instant coffee.
In a small bowl whisk the eggs for 1 minute until bubbly on top. Stir the eggs into the chocolate mix. Add the flour, cocoa powder, and baking powder. Stir until just combined. Stir in the remaining 1/2 cup chocolate chips.
Evenly spread the mixture into the prepared baking pan. Bake for 28-30 minutes or until the brownies are just set. Sprinkle with Sous Salt Sweet & Savory when you take them out of the oven. Cool and enjoy!