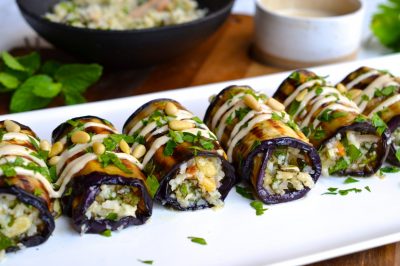 The velvety texture of the eggplant is perfect with the cauliflower rice mixture. I used parmesan but you could use Italian Fontina or mozzarella. The pine nuts add a crunch to the filling. A good jar of marinara works perfectly or make your own tomato sauce.  We have a great recipe for roasted tomato sauce.  Make a big batch and save it for other dishes in the week. Alternatively you can serve these room temperature with a Tahini & Lemon Sauce as featured in the recipe by Carmen @everylastbite. I morphed her filling to my taste and have included her Tahini sauce at the bottom of the page if you would like to use the dish more like a salad.
ingredients
1 eggplant
2 T olive oil
1 t Sous Salt Porcini or Fennel
filling
2 c of cauliflower rice
1 t olive oil
1/3 c chopped fresh parsley
1/4 c chopped fresh thyme
1/4 pint nuts lightly toasted
1 shallot diced
1 clove garlic
1/4 c Parmesan cheese
topping
marinara sauce (homemade or good quality jar)
directions
Heat a grill to medium high heat.  Slice the eggplants about 1/4 inch thick. Brush each slice with olive oil and sprinkle with Sous Salt. Grill the slices until golden grill marks appear and the vegetable softens, apx 3 minutes. Lay the slices on  a baking sheet.
While the eggplant is cooking heat the filling teaspoon of olive oil in a skillet. Add in the shallot and cauliflower rice. Sauté until there is a bit of color on the cauliflower and it is softened.  Set aside to cool.
Once cool add the parsley, thyme, pine nuts and parmsean.
Take a slice of cooked eggplant and add 1 T of the filling at the wider end of the slice and roll up. Place the end on the bottom of the roll in a baking dish.  Spoon a Tablespoon of marinara sauce on each roll, sprinkle with parmesan and heat in a 375 degree oven until bubbly, apx 20 mins.
Tahini and Lemon Sauce
1 T Tahini
Juice from 1/2 lemon
1 t honey or agave nectar
1 clove garlic
1 t water
Whisk these ingredients and drizzle over the top of the prepared rolls. Add water for desired consistency. Serve room temp. Rolls pictured are with the Tahini drizzle.