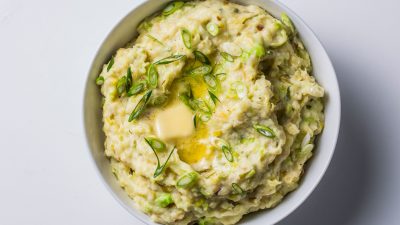 Love these potatoes ~  Just the right amount of crunch from the cabbage and scallions. Perfect with a corned beef or pot roast. Adds a lightness and creaminess to any stew actually. You can either peel the potatoes or leave them rustic.
ingredients ~
5 medium yukon gold potatoes about 1 1/2 lbs
Sous Salt
6 T butter
2 leeks,
2 garlic cloves
2 c shredded savoy cabbage
1 1/4 c milk
1/2 c heavy cream
1 scallion
pepper to taste
directions ~
Cut the potatoes into 1 inch cubes and place them in a sauce pan with col and salted water. Bring to a boil over medium heat and simmer for about 30 minutes until tender. Drain and add them back to the saucepan to dry out a bit under a low heat.  Doesn't take long but does dry out the excess water.
While the potatoes are cooking melt 4 T of the butter in a skillet and add the leeks (which you have sliced thinly in slivers). Cook them about 6 minutes until they are tender. Add the garlic and cook just until you can smell it about 1 minutes. Add 1 cup of the cabbage at this point and cook until wilted. Now add the milk and cream and bring it to a simmer.
Mash up the potatoes a bit and add the potatoes and the remaining cup of cabbage to the milk mixture. Season with Sous Salt and Pepper. Dot with the remaining butter.