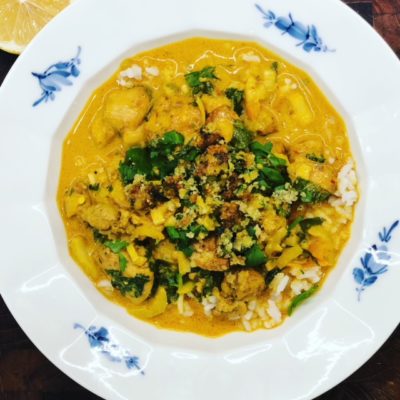 I love a good curry and always thought they had to simmer for hours. This one doesn't! I did you a combination of curry ingredients to develop the richness. I used green curry paste and our Sous Salt Curry spice blend which is a wonderful compilation of  12 seasonings that add a balance to the flavor without a lot of heat.  If you want it hotter you can use red pepper flakes or a hot variety of red curry paste. I garnished it with crispy garbanzo beans that I put in the food processor to pulverize and then sautéed in olive oil to make them crunchy. Served with white rice, quinoa or farro and you dish is complete!
ingredients ~
6 boneless, skinless chicken thighs cut into 1 inch pieces
2 shallots, diced
1 inch knob of ginger, grated
4 cloves of garlic, grated (you can use less if you prefer)
1 T Sous Salt Curry
2 T Curry Powder
2 T Green Chili Curry Paste (the one in the jar)
1 can coconut milk
1/2 c chicken stock
1/2 c hummus (this acts as the thickening agent for the curry)
pickled jalapenos, 6 – 10 depending on what heat content you want
olive oil
1/4 c white wine
1 small bok choy, chopped
1/2 orange bell pepper, diced
directions ~
Toss the chicken thigh pieces in 1 T of the Sous Salt Curry Blend and let it sit for a few minutes while you prep the rest of the dish. In a dutch oven saute the shallot, garlic and ginger on low heat in 1 T of olive oil to infuse the flavors but not to burn the garlic. Add the remaining Sous Salt Curry Blend, the Green Chili Curry Paste, the coconut milk and the chicken stock. Simmer for 5 minutes then add the hummus and the pickled jalapenos. I added 6 slices from the jar.
While the curry is simmering brown the chicken pieces in 1 T of olive oil. Saute them on med high heat quickly so they brown fast without cooking through. You want to finish their cooking in the sauce but get some color on them for taste and appearance. Then add the chicken to the curry and deglaze the saute pan with the white wine. Let the wine bubble up and scrap the bits off the bottom of the pan.  Once it's reduced by half add it to the chicken curry. Add the bell pepper and the bok choy to the curry at this time and cook for 2 minutes. Garnish with cilantro and serve it over jasmine rice, farro or quinoa.