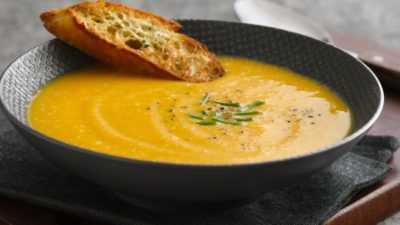 Ingredients
¼ cup toasted pumpkin seeds (pepitas)
1 large butternut squash (about 3 pounds), peeled, halved lengthwise, cut into cubes
1 granny smith apple
2 shallots
1 Fresno chile, halved
2 unpeeled garlic cloves
1 can coconut milk
3 tablespoons curry powder
1 1/2 teaspoons Boo Salt
⅓ cup cilantro, chopped
2 tablespoons olive oil
2 cups chicken stock
Creme Fraiche for finishing
Preparation
Set oven temperature to 450°. Toss squash, chopped and peeled apple, onion, chile, garlic, olive oil,  boo salt and curry powder in a large bowl until squash is coated season. Arrange in a single layer on baking sheet and roast, tossing occasionally, until squash and onion are browned and tender, 30 -40 minutes.
Meanwhile, add cilantro, 1 teaspoon olive oil & pumpkin seeds, stir to combine. Season with 1/2 teaspoon of Boo Salt and pepper and cover.
Once the vegetables are finished peel the garlic, then purée garlic, squash, onion, chile, coconut milk until smooth.  Add the blender ingredients to a soup pot with 2 cups hot chicken stock. Add more stock if you would like a thinner consistency.
Sprinkle the pumpkin seed and cilantro mixture on top of the soup. Finish with a sprinkle of boo salt and a spoonful of creme fraiche.