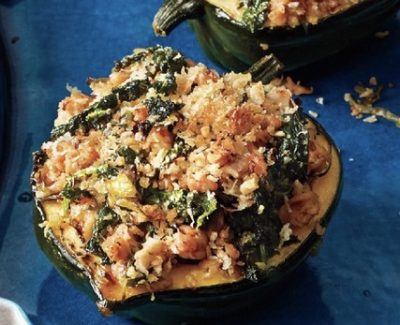 We welcome Fall in this family with open ovens! Something about the colors and smells of the season….The other day I picked up some beautiful Acorn Squash and stuffed it with a light meat mixture. Soaking the bread in the milk and wine gives the stuffing a wonderfully light texture. This recipe will stuff two acorn squash…four halves and will leave you enough of the meat mixture to make meatballs or a small meatloaf the next evening. Two dinners in one prep. Or you can stuff four acorn squash, eight halves and use the entire meat mixture. Either way it produces a light stuffing that you will thoroughly enjoy!
Ingredients:
1 lb ground veal
1 lb ground pork
2 shallots, diced
1 1/2 c white bread cubes…I used an artisan herb slab
1/2 Parmesan cheese
1/2 Italian Fontina (you could also just use 1 c of Parmesan and not the Fontina)
2 T fresh chopped parsley
1 T fresh Thyme
3 leaves thinly sliced Kale (chiffonade)
1/2 c milk
1/2 c dry red wine
1 egg lightly beaten
2 acorn squash, halved and seeded
4 T olive oil
2 t Sous Salt Sun Dried Tomato and Basil
1 t Boo Sous Salt
Pepper to taste
Topping:
1 T olive oil
1 1/2 c Panko bread crumbs
2 sprigs Thyme, leaves removed from the stem
1/2 t Grey Herb Sous Salt
Directions:
Preheat the oven to 375 degrees F. Line a sheet pan with parchment paper. Drizzle 2 of the tablespoons of olive oil inside the acorn squash and sprinkle with the Boo Salt and pepper as desired. Place the squash cut side down on the parchment paper and bake for 30 mins.
While the squash are cooking prepare the filling. In a skillet saute the shallots in 2 T of olive oil until opaque apx 2 mins. Then add the veal, pork and 1 t of the Sun Dried Tomato Sous Salt and saute approximately 3 -5 minutes until cooked through. While the meats are browning prep the rest of the stuffing ingredients. In a mixing bowl put the bread, milk and wine let them soak for 2 minutes. Add the Parmesan, Fontina, garlic, kale, parsley, thyme, 1 teaspoons of the Sun-dried Tomato Sous Salt, egg and 1/2 teaspoon black pepper. Combine lightly but thoroughly.  Add the pork and veal mixture to the other ingredients in the bowl and lightly combine.
When the squash is finished roasting, fill the cavities with the meat mixture. In a small skillet add 1 T olive oil, add the panko bread crumbs, the thyme leaves, 1/2 t Grey Herb Sous Salt and lightly brown. Sprinkle this mixture over the top of the stuffed squash. Bake the squash for 20 minutes until the top is crispy and golden.
Photo by Christopher Testani