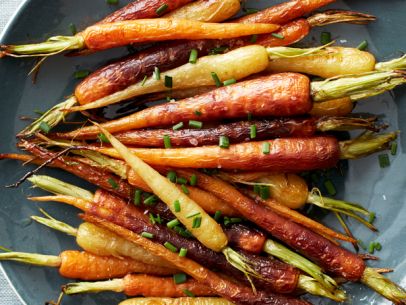 roasted rainbow carrots ~
This is our beautiful rendition of a terrific vegetable dish for the hectic cooking of the Thanksgiving Holiday which my sister is facing the brunt of today! She truly is a saint! Color, sweetness and ease of preparation!
Truly …sometimes the simplest collaboration reaps the greatest rewards!
Melt 1/4 c of butter with 1/4 c of good quality maple syrup, 1/4 c brown sugar and 1 finely diced fresno chili. Toss 3 bunches of baby rainbow carrots and 5 shallots peeled and sliced with the melted butter mixture. Sprinkle 1 teaspoon Sous Salt Gobble Salt (this is our sweet and salty blend)  on a baking sheet lined with parchment paper in a single layer. Roast at 450 degrees F, turning once, until tender and slightly browned, 15  – 20 minutes depending on how your oven cooks.
Finish by sprinkling with 1 tablespoon each of parsley and chives.
Photograph by Christina Holmes