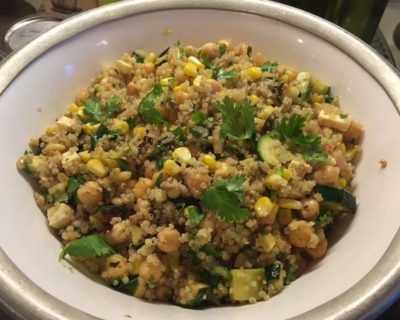 Whenever I run out of time I suggest to Scott that he might like to grill something tonight. Today was one of those days!
I always need something yummy to go with the rustic flavors of the grill so I made this wonderful late vegetable harvest salad.   Thought I would share with you. Either room temperature or as a cold salad it goes perfect with anything. We had it with a fresh Mahi Mahi.
On my way home I stopped at the  Farmers Market and took advantage of the wonderful late summer vegetables they so proudly grow. I used a combination of corn, zucchini and fresh herbs seasoned with two of our Sous Salt blends.  I used the Sun Dried Tomato Salt and the Grey Sea Salt & Herb, both complimented the chopped salad perfectly. Please feel free to substitute any fresh vegetables you love…asparagus, snap peas, broccoli or cauliflower but here is the basic recipe.
Ingredients
2 small zucchini
1 ear of corn
3 green onions
1 can of garbanzo beans
1/2 tsp red pepper flakes
1/2 cup of quinoa
1 cup of water or chicken stock
1/2 tsp of Sous Salt Sun Dried Tomato blend
1 tsp of Sous Salt Grey & Herb blend
1/4 cup of Pine Nuts
1/2 cup of chopped cilantro (parsley if you don't like cilantro)
Olive Oil
2 – 4 ounces of Feta which ever you prefer (I use the marinated feta that we make but feel free to use any good quality feta or goat cheese)
Directions
Start the Quinoa first (if you don't like Quinoa feel free to substitute Orzo, Rice or Couscous any of those options would work perfectly). I toast my Quinoa in a little olive oil with 1/2 tsp of the Sun Dried Tomato Sous Salt for 30 seconds and then add 1 cup of  chicken stock (you can use water or vegetable stock if you would like). Bring to a boil, cover, turn down to simmer and leave it alone for 15 minutes. Once the time has passed, turn the heat off, leave it covered to absorb and rest for at least five minutes.  Then fork tenderly to separate the little gems of Quinoa.
In a separate skillet add 1 T of olive oil with 2 small chopped zucchini with 2 of the green onions chopped. Sprinkle 1/2 tsp of the Grey Sea Salt & Herb blend. Let them brown a bit for flavor and then add the corn cut off of the cob to the zucchini. Saute for just another minute and transfer them to a large mixing bowl.
Now back to the skillet add 1/2 T of olive oil with the 1/2 tsp of Sun Dried Tomato Salt and in goes 1/2 t of red pepper flakes (less or more depending on your pallet) add the drained and rinsed can of garbanzo beans and the last remaining green onion chopped. Let them saute together for a bit to get a little color on the beans (approximately 2 mins) then remove them from the skillet and add these to the bowl.
Add the Pine nuts to the skillet and toast them for 1 minute.  Keep your eye on them closely… those little puppies toast quick and they aren't cheap so don't burn them.  Just a golden little summer tan will do. Add them to the rest of the ingredients in the bowl.
Crumble in the feta. Add the Quinoa. Toss them all together.
Squeeze the juice of one lemon into the bowl and if needed a drizzle of olive oil and Sous Salt to taste. In general I don't use a lot of black pepper I prefer red pepper flakes for my kick. But feel free to season this lovely salad anyway you would like.
Hope you enjoy!