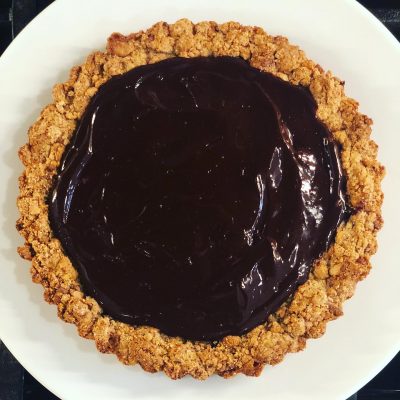 There are so many wonderful flours being milled nowadays. In this recipe I used almond flour and all purpose flour. However you could use hazelnut flour with the almond flour as well.  It will give you a bit denser cookie cake but add nuttiness to the taste. I used Heath Bar bits in this recipe they can be substituted for mini chocolate chips, peanut but or butterscotch chips. The ganache adds an elegance to the simplicity of the cookie but you can totally leave it off if you aren't a chocolate lover. I used a round fluted 8″ tart pan that allows you to easily life the cookie cake out from the mold. A spring form pan works as does a parchment sleeve lined 8″square baking pan. Anything that allows you to easily life the cookie cake out.
ingredients ~
nonstick spray
1 cup almond flour
1 cup all purpose flour (or hazelnut flour)
1/2 c brown sugar
1/2 c white sugar
1 t Sous Salt Sweet & Savory
1/4 t baking soda
1/4 t baking powder
1 large egg room temperature
1 T vanilla extract
1/2 t almond extract
2 T canola oil
1/2 c Heath Bar chips or chocolate chips
ganache
1/2 c heavy cream
8 ounces semi sweet chocolate chips
1 t instant espresso granules
directions ~
Preheat the oven to 350 degrees. Spray an 8 inch round fluted tart pan with non stick baking spray.
In a large bowl combine the flours, sugars, Sous Salt, baking soda and baking powder. In a small bowl beat the egg with the oil, vanilla and almond extracts.  Add the wet to the dry ingredients. Stir in the chips to combine.  Put the dough into the pan and press it down more in the circular center leaving a 1″ lip at the edges. Once the cake is cooled that indentation will be where you pour the ganache in the middle.
Bake the cake for 20 – 22 minutes. Let the cake cool completely.
While the cake is cooling you can make the ganache by bringing the cream, chocolate chips and espresso powder to a simmer and melting the chocolate until smooth and creamy.  Let it cool for 10 minutes.
Pour the ganache onto the cookie cake and let it cool til set.