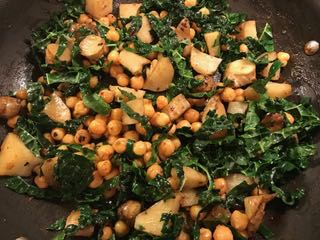 Not only is this a colorful and healthy saute but it's visually inviting…which is the precursor for its appetizing flavor. Another simple to construct dish that can be a main course for a light meal or a side dish. Certainly choose whichever Sous Salt you would like to use…I used the Grey Herb, but the Sun Dried Tomato or the Lemon Thyme, Porcini Mushroom or even the Smoked Paprika would be terrific! The recipe calls for Kale … substitute Spinach if you prefer.
ingredients
4 SERVINGS
1 15 oz can drained and rinsed garbanzo beans
⅓ cup plus 2 tablespoons olive oil
1 t Sous Salt Grey with Herb and freshly ground pepper
2 cloves garlic minced
1/2 t cumin
2 T unsalted butter
1/4 cup pine nuts
1/2 c finely sliced kale, stems removed
2 medium sun chokes/Jerusalem artichokes washed and scrubbed and diced
1/4 c chicken stock
1/4 c chopped parsley
preparation
Heat  2 Tbsp. oil in a large skillet over medium. Saute the sun chokes in the olive oil just until they begin to brown on the edges. Season with 1/2 t of the Sous Salt, cumin and pepper. Then add 1/4 c chicken stock, chickpeas, garlic, kale and cook, tossing occasionally, until the liquid has evaporated about 4 minutes.
Melt butter in a small skillet over medium heat until it foams. Add pine nuts and continue to cook until they are lightly toasted.  Watch though because pine nuts can easily burn. Once they are lightly brown add the parsley turn off the heat and let it sit about 30 seconds.
Plate the vegetable mixture and sprinkle the pine nut, parsley mixture on top.