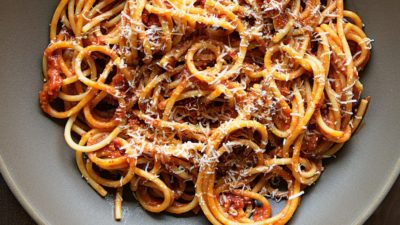 So this tomato sauce requires very little prep…the flavor comes from the roasting of the tomatoes, the anchovy fillets (which you won't even be able to distinguish once cooked), garlic and red pepper flakes….of course the butter helps as well! Feel free to use olive oil in place of the butter.  The sauce is great on pasta as featured or used as a base for soup, stews or hash. You can easily double this recipe and freeze some for the future.
bucatini with butter-roasted tomato sauce
Ingredients
4 SERVINGS
1 28-oz. can whole peeled tomatoes
1 package baby tomatoes (I used the yellow and red ones)
6 garlic cloves, peeled, crushed
2 anchovy fillets packed in oil
2 shallots, peeled and sliced in half
1/2 stick unsalted butter, cut into small pieces
½ teaspoon crushed red pepper flakes plus more for serving
Sous Salt Olive, Thyme & Lemon Zest you may substitute Sous Salt Pinot Noir
Freshly ground black pepper
12 oz. bucatini or spaghetti
Finely grated Parmesan (for serving)
Preparation
Preheat oven to 425°. Combine tomatoes (crushing them with your hands), garlic, anchovies, butter, shallots, baby fresh tomatoes and ½ tsp. red pepper flakes on a baking sheet; season with Sous Salt and black pepper. Roast, tossing halfway through, until garlic is very soft and mixture is jammy, 35–40 minutes. Mash the mixture or put it in a food processor and give it a whirl.
If you are going to serve it with pasta…while the tomatoes are roasting, cook pasta in a large pot of boiling salted water, stirring occasionally, until al dente. Drain, reserving ½ cup pasta cooking liquid.
Return pasta to pot and add tomato sauce and pasta cooking liquid. Cook over medium-high heat, tossing until sauce coats pasta, about 3 minutes. Serve topped with Parmesan and more red pepper flakes.
You can easily kick this up a bit with a saute of either pancetta, bacon, sausage, kale, spinach, brocolini or asparagus. Saute any of the ingredients or combine some of them and add the tomato sauce to the saute pan incorporating your additions along with the reserved pasta water.
Photograph by Hirsheimer & Hamilton